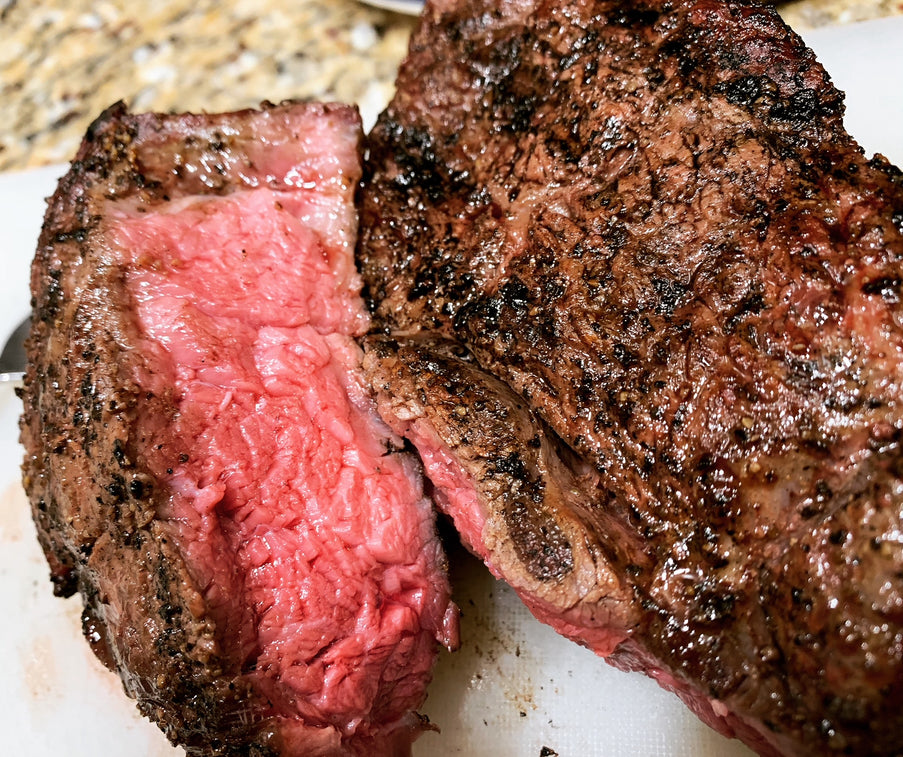 I don't know about you, but I love steak! So much so, some of my followers complained - "All you ever do is cook steak and wings...," And while I do cook them a lot, there is a reason for the recent surge.
Over the last year I've been developing my own universal seasoning, and I've been doing a lot of testing (and eating!), which translates into grilling a lot of the same things, but I'm very proud of them, so I post pictures of my creations on social media (probably more than I should).
My Grill Glitter Universal Seasoning Rub is truly the work of a mad man (in a good way!). you know I'm a nerd when it comes to cooking. I can honestly say the Grill Glitter is the perfect balance of savory and spicy, and is a true universal seasoning rub.
30 Minutes - "From Fridge to Face"
Prepare the Ingredients
Grill Glitter Universal Seasoning Rub 2 tbsp.
Softened Salted Butter 2 tbsp.
This one is a simple one. The recipe calls for your favorite cut of steak, I like a nice thick New York cut (1.5-2in 5cm). At this point preheat your grill to 400+F (205+C). We are going to sear the steak in the first cooking step, so prepare your station now.
Spread 1 tbsp. of butter over the steak until it is evenly coated.
Sprinkle and rub in all of the Grill Glitter Universal Seasoning Rub until the steak is evenly coated and mixed with the butter.
When the grill is hot, place the steak and close the lid. Leave the steak sear for roughly 4 minutes, monitoring the grill for smoke and flare ups (the butter can accelerate things). Flip the steak over and sear for another 4 minutes.
At this point the grill should be pretty hot, but you should have been monitoring it and regulating the temperature. Remember as things cook it takes less thermal energy to keep them hot, so grill temperatures need to bee constantly regulated.
We are going to flip the steak over for the third time and keep the lid open. Reduce the flame(s) to med-low. We now want the grill at a happy 325F (160C). Let the steak cook for another 5 minutes, flip and repeat, brushing on a bit of the remaining 1tbsp. of butter with each flip.
At this point the thick cut steak should be medium rare. You should adjust your cooking times above for a more rare steak. I like an internal temperature of 133F (56C). You should also consider the meat's internal temp will rise while resting by about 2-3 degrees (I don't know how to convey that in Celsius).
Let the steak rest for roughly 6-8 minutes.
Post seasoning!
Prepare the ingredients
Grill Glitter Universal Seasoning Rub 1 tsp.
Gently dust the steak with Grill Glitter before cutting and serving. Grab a beer, you've done well!